$FNCY is used as the native asset on FNCY blockchain and is used by network users to pay for nodes that process the requested operation.
Digital Asset Purchase (NFT Marketplace) and Service Fees
1 billion $FNCY are created at Genesis Block (Epoch 0) for the swap of $ITAMCUBE tokens that exist on Ethereum and BSC chains.
After the completion of governance setting following Genesis Block generation, 5 $FNCY will be minted per block and will be distributed according to the governance reward distribution plan specified in the table below. 52,560,000 $FNCY coins are created annually and automatically distributed to the addresses defined in governance. In total, a maximum of 2 billion coins will be issued, including the 1 billion coins created at the Genesis Block.
Automatically distribute to addresses defined by on-chain governance.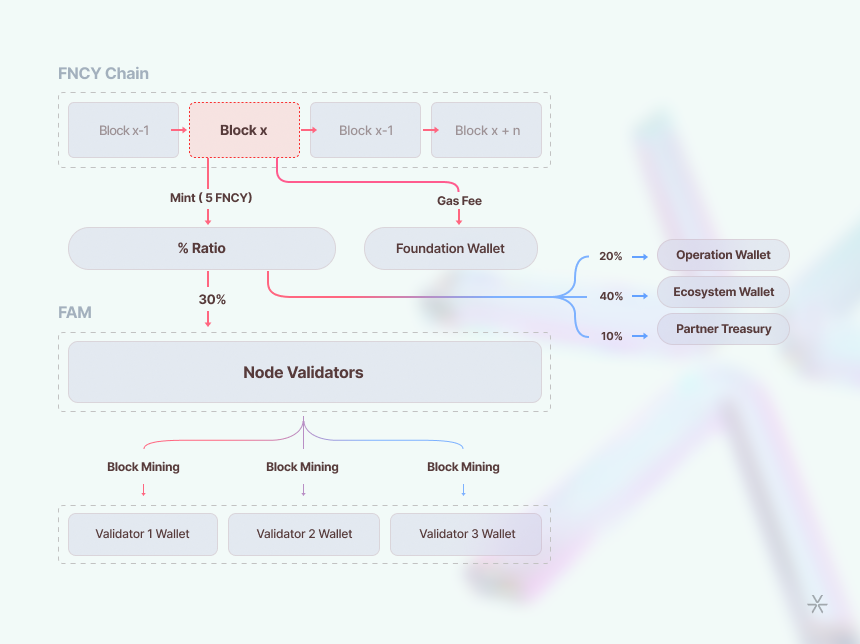 * FAM (FNCY Authorized Members): Reward for FNCY chain validators

* Partner Treasury: Staking reward for partners and enterprises

* Ecosystem: Reward and reserved resources for the healthy users and ecosystem

* Operation: Operational use for maintaining quality and integrity of FNCY services
To ensure that FNCY network grows and the ecosystem remains sustainable, 40% of the number minted per block (2 FNCY) will be used for the Ecosystem Fund. The use of Ecosystem Fund will be divided into three categories as follows.
Fund for $FNCY Single Staking Services for Initial Critical Mass Acquisition for Minimum Sustainable Economy (MSE)

Fund to build a healthy and virtuous DeFi ecosystem of FNCY networks

Used for marketing (Airdrop) to secure initial users using FNCY networks (game services, content services, NFTs, etc.)
Total Additional Mint Supply

5 coins minted per block (3 sec)Vesting ends in 2042

*Governance Voting can be initiated to implement Halving to control excess minting
Initial Circulation Supply
12.5% linear bimonthly vesting from Dec. 22

3.33% linear monthly vesting from Jan. 23

3.32% linear monthly vesting from Feb. 23

5% linear quarterly vesting from Jan. 23